Viktor Zaretskyi, Alla Horska (with Anatolii Lymarev and Borys Plaksii) A sketch for the mosaic panel "Flag of Freedom" for the Young Guard Museum in Krasnodon, 1968, applique on cardboard
We went to the opening of a new exhibition at National Art Museum of Ukraine. It was great, I finally saw Alla Horska's (the true legend of a 1960s art movement) sketch for the mosaic panel "Flag of Freedom"; the original is located at the museum in Kranodon, Luhansk oblast (and now it's an occupied territory).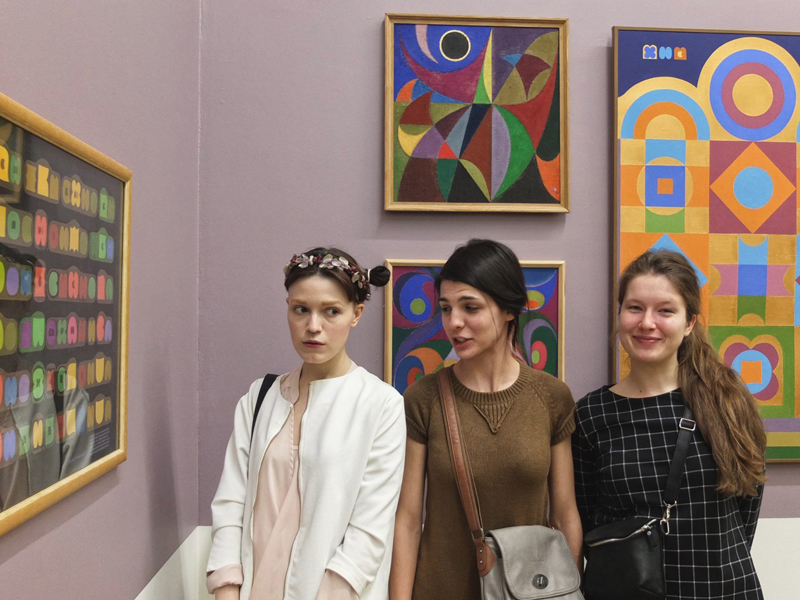 In an atmosphere of ideological pressure, artists sought, first and foremost, the freedom of expression. The exhibition suggests that we should view the works of the 23 artists from Kyiv, Odessa, Lviv and Uzhorod as a cohesive artistic phenomenon, defying the fact that all these artists worked in hermetic isolated communities, and were never before exhibited side by side. While the artists' works of the 1960s were largely defined by their isolation, it is now abundantly obvious that they shared themes, formal choices and sensibilities in their different mediums. To showcase this unity, the exposition groups a hundred or so works of the 1950s through the early 1970s into several thematic categories. Taken together, they outline a prospective exposition of the 1960s in the future Museum of Contemporary Art, temporary houses in the National Art Museum of Ukraine.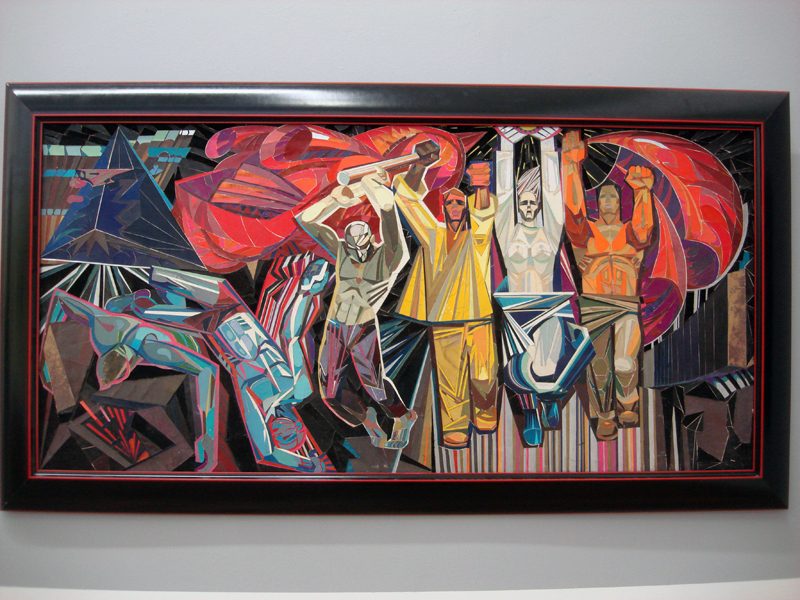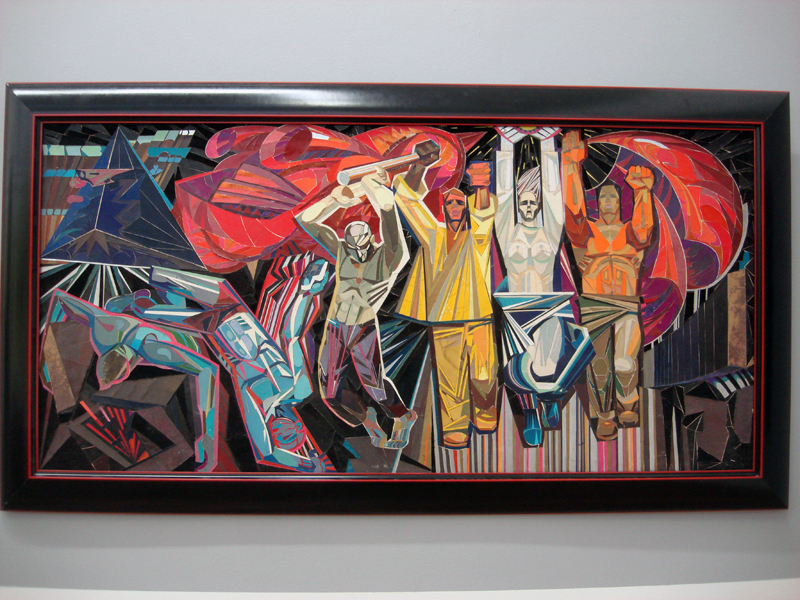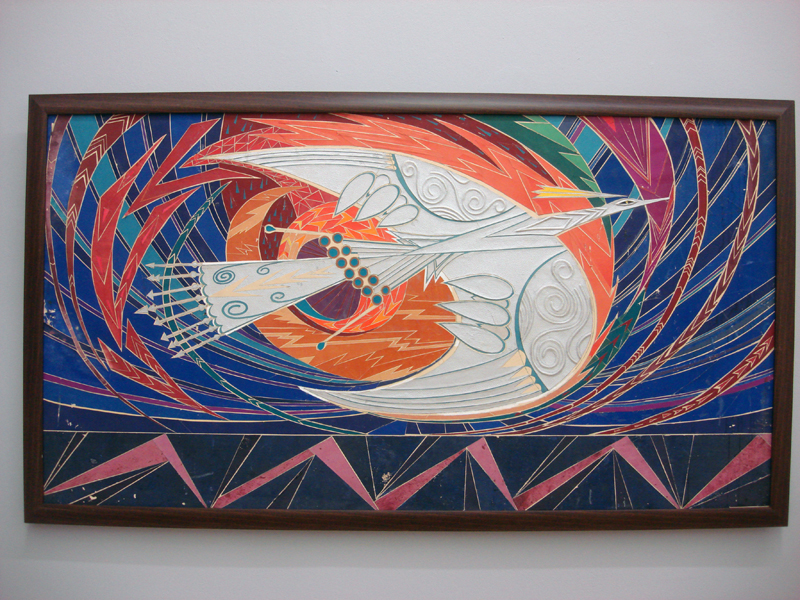 Many artists of the 1960s balanced an independent practice, condemned by authorities and unknown but to a small circle of trusted colleagues, and state commissions for monumental, decorative or applied art. Far from being merely a source of income, such commissions offered a chance to make from local art cooperatives, major enterprises or publishing houses that released up to 300 new titles a year with six-digit circulations. These media were less strictly sanctioned than painting or sculpture, and artists were free, more or less, to choose their themes and forms. They took advantage of this opportunity to grant the public access to their non-Socialist Realism formal and conceptual experiments that would have otherwise been condemned to languish in their workshops. For example, Valerii Lamakh used abstract elements of the imagery that he developed in his "Books of Schemes" in decorating two factories. The "book of schemes" was the work of his life, yet for the longest time only his closest friends were privy to it. 2015 was the publication of the first two volumes out of five.
Monumental mosaics by Alla Horska, Viktor Zaretskyi and their colleagues perform bold experiment with composition, palette, mosaic panels in interior spaces and on façades, decorations of bus stops and of other public structures are as exemplary of the art concepts of the 1960 as the works that were never exhibited in the artists' lifetime.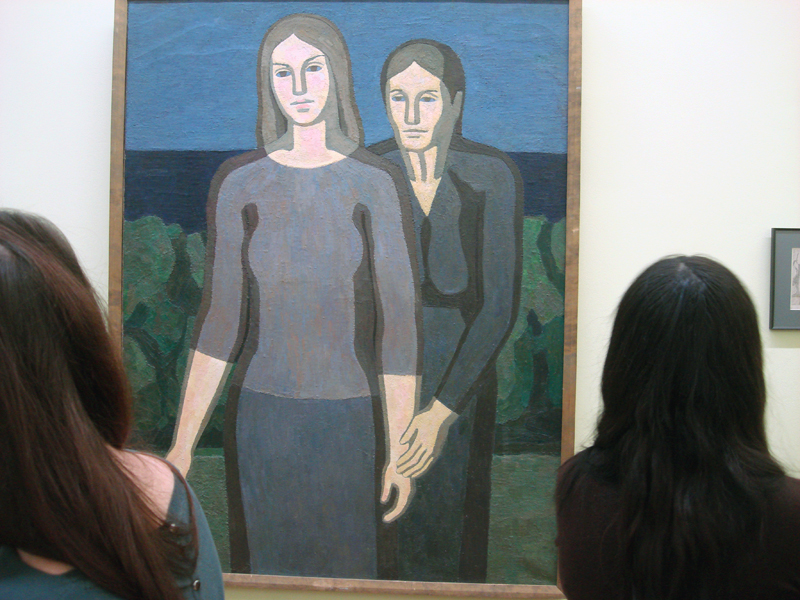 Official Soviet criticism all digressions from Socialist Realism as "formalism" and "abstractionism", always used as a pejorative. This was not necessarily true technically: not all of the "accused" chose abstract art as a medium for their alternative views on art. Many artists of the 1960s worked with traditional genres (landscapes, portraits or still lives), but used the visual language that didn't fit the framework of Soviet art. For Roman Selskyi and Margit Selska, the artist power couple, annual sessions en plein art in the Carpathians afforded ample opportunities for experiments with colors in the vein of the Paris school, to which they rightly belonged. Akim Levich depicted deceptively simple scenes from urban life. However, plots yield center stage to the nuances sensibility and the intricate multilayer space devised through colors and the texture of pain. Levich believed that art was conceived when paint stopped being a mere medium, and became a space of its own.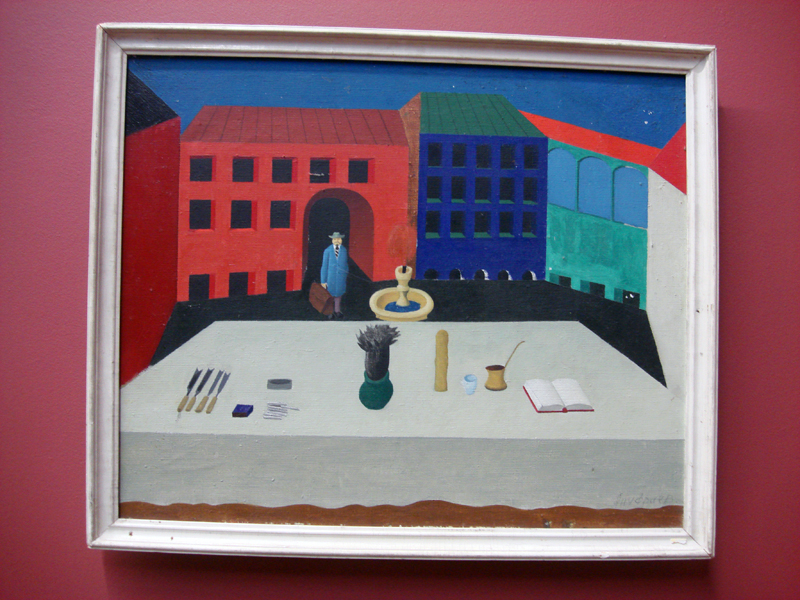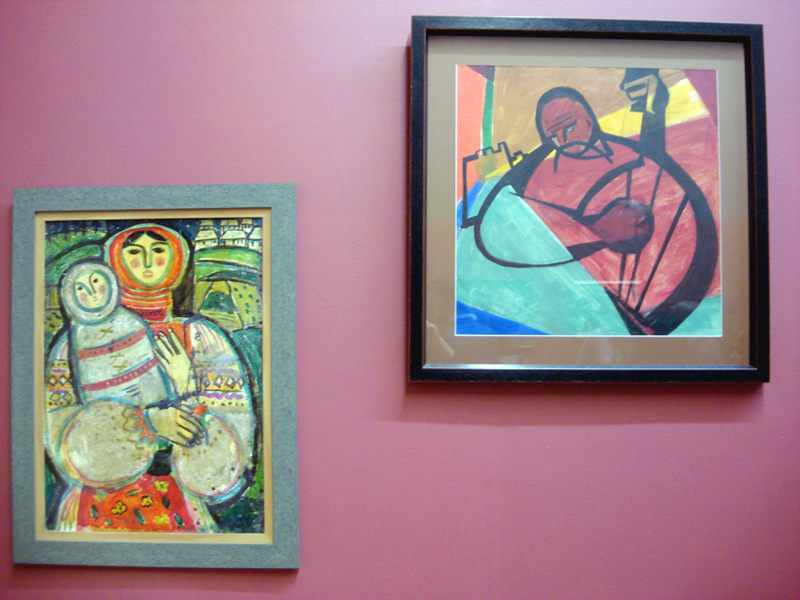 Still lives by Karlo Zvirynskyi and Ferents Seman are not mere arrangements of quotidian objects: they offer a collection of symbols and codes for views endowed with unorthodox thinking to decode. Portraits by Alla Horska, Viktor Maryniuk and others artists privilege the integrity of an image over physical resemblance to the model (if a portrait was indeed painted from life). IN a way, they create a typified portrait of a "Sixtier", a hero of that tumultuous and ambiguous era.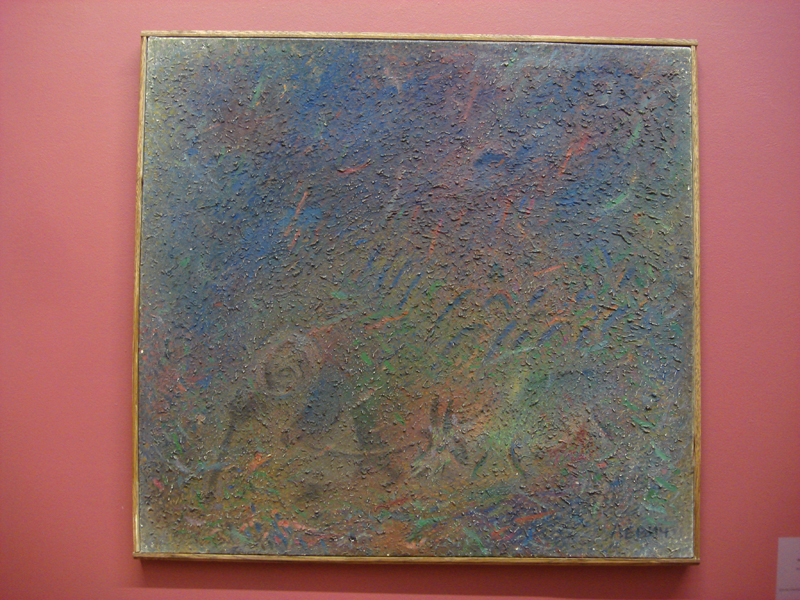 Not all the artworks that appear to be abstract at the first glance are actually that way. Abstract forms were often steeped in concrete intellectual searches of the Sixtiers, often taking them beyond the realm of art. For an Uzhhorod-based artist Pavlo Bedzir, painting was a kind of meditation, a tangible dimension of his private philosophy.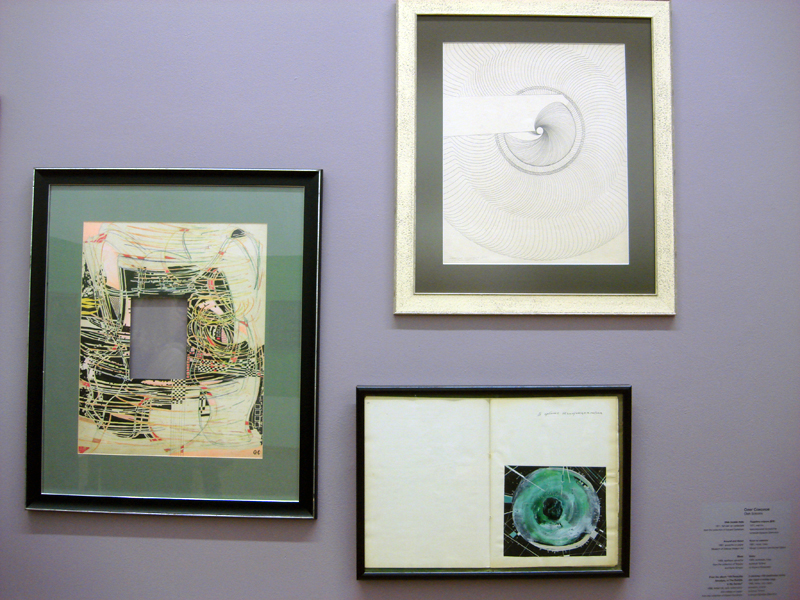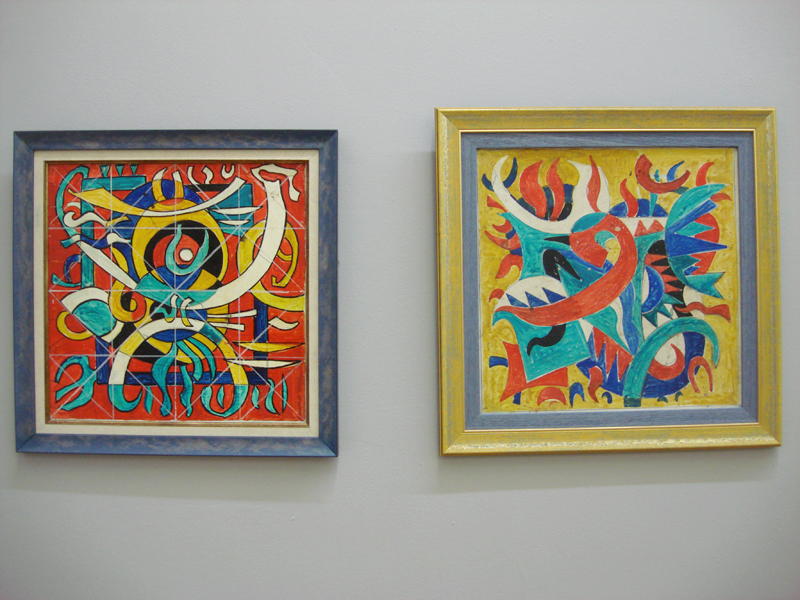 His student Pavlo Kovach belives that Bedzir's art drawings were a way to grasp the structure of the cosmos, and not merely decorative works. Cosmos, a pervasive motif for the 1960s, intrigued Odessa-based Oleh Sokolov. Sokolov and Bedzir have never met, yet that didn't preclude them from creating visually similar works. Granted, Bedzir was interested in mysticism and took Eastern philosophy as his straight point, whereas Sokolov's notion of the cosmos was deeply rooted in the western tradition, which the cosmos representing the order and harmony og the universe. Following in the footsteps his favorite artists Mikalojus Ciurlionis, Sokolov sought the absolute synthesis of color and music, poetry and visual images in a harmonious whole. Meanwhile, Florian Iuriev from Kyiv found an absolutely unique way of translating sounds into colors. An artist, a color-scholar and a musician, Iuriev reinterpreted music and poetry through colors with the precision of scholar. He insisted that these works realist rather than abstract.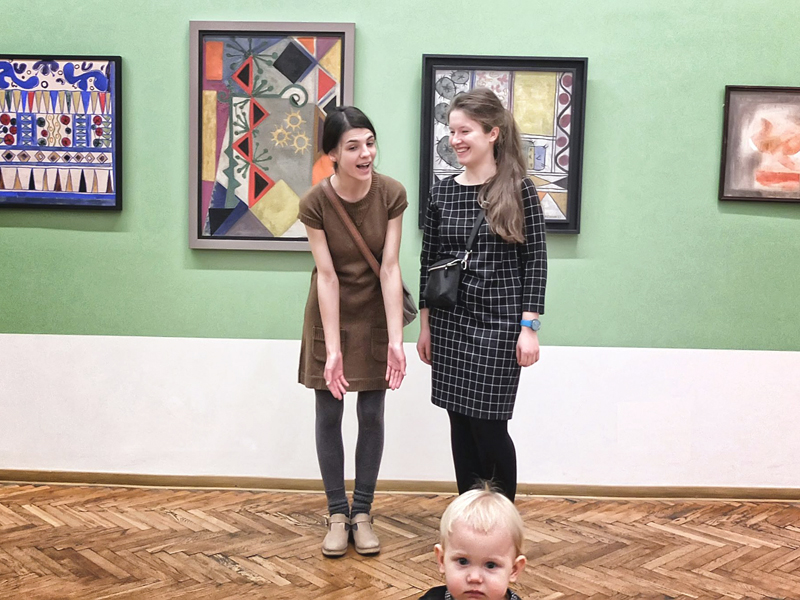 Many artists of 1960s felt it imperative to develop a figurative language of their own that allow them to convey the fullness of their professional and daily life with minimal means. For many, this meant a departure from excessive details and narrativity. Stylized, deceptively simple color arrangements and compositions could ultimately entail an almost complete departure from figurative art. However, this was not "art for art's sake", since formal experiments were born of the artist's perennial observations of reality, a synthesis of lived impressions. Hryhorii Havrylenko would keep dissecting reality, whiling it down to the essentials. This effect become the most pronounced in one of his favorite motifs: a tree, a perfectly recognized shape at first, transforms into an arrangement of colors and lines. Meanwhile, his programmatic "Beach", while not departing from its referential origins, depicts not a concrete landscape but its primary blocks: skies, nature, earth and water. Landscape also intrigued Karlo Zvirynsky, whose ostensibly abstract works would evoke the geometrical rhythms of a forest. He escaped the confines of the two dimensions by enhancing his paintings with the volume and texture of wood, tin, or ropes. Such "authentic", sometimes random objects, expressive in thie physicality, affects Zvirynskyi's figurative language no less than his choice of paint. Anatolii Sumar had little interest in the abstractive as such. He transposed real things, such as skylines of his beloved Kyiv or the interiors of his apartment, into his works through the medium of his distinctive symbolic language. Refracted through the lens of his sensibility, they evoke Sumar's gentle appreciation for the most mundane objects of the surrounding world. The unofficial artists of Odessa also shared the notion of painting as a search for a new figurative language. The generation of Volodymyr Strelnykov, Valentyn Krushch and others of the circle was just starting to develop its distinct style in the 1960s, and it didn't reach its peak until the 1970s.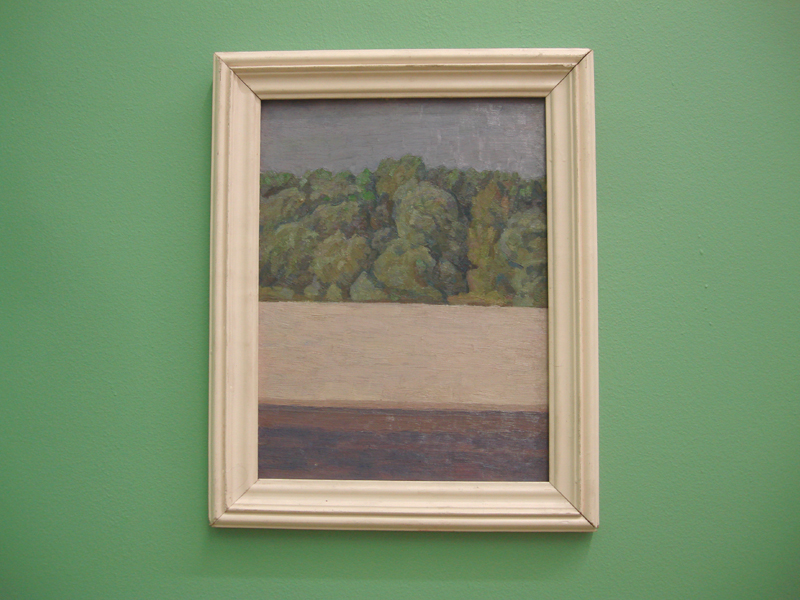 The curators of the exhibition recently wrote The Art of the Ukrainian Sixties book, it was published by Osnovy publishing house.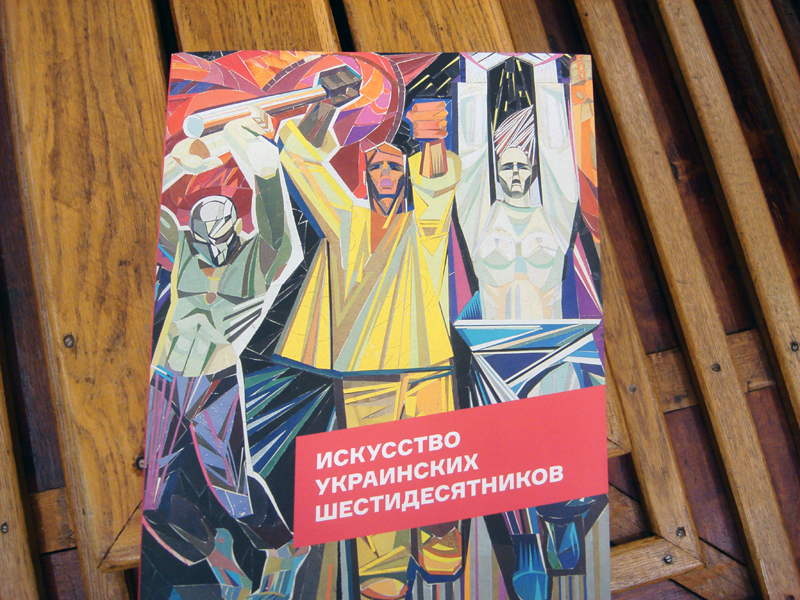 Later we wanted to go to Kosatka bar, but since it was a Friday night we couldn't find a free seat.
So we went to /13 Bar that is located in a same area. /13 Bar was also quite crowded though. Check out the little hats on bottles.
My friend Olya likes to hang out with her friends at Gorkiy pub that is located quite close to Shevchenko park. We set at Gorkiy and played bridge till the morning.
---
The exhibition "Art of the Ukrainian Sixties. Possibility of the museum" – National Art Museum of Ukraine 19.12.2015 – 21.02.2016, 6, Hrushevskoho str.
Косатка (Kosatka) – 25/2, Velyka Zhytomyrska St, Kiev
/13 Bar – 21/13, Reitarska St, Kiev
Gorkiy pub – 4/6, Antonovycha St, Kiev