So I sat down and thought about cool Kyiv things and products you can buy that would be great to bring back home either for one's own memory, or as a gift for someone. My cred­ib­il­ity is that I actu­ally own almost all of the stuff that I recommend 🙂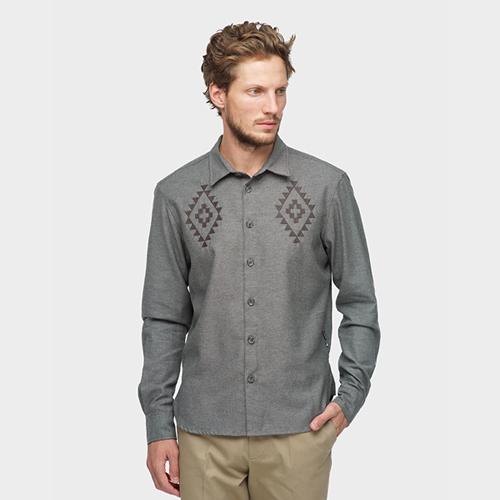 Syndicate Original shirt
Syndicate Original is one of the most popular Kyiv streetwear brands. I like them because they keep their designs simple yet interesting by doing collaborations with local designers and illustrators.
http://www.sndct.com/
Buy: Syndicate Original shop, 4 Turivska str., Kyiv.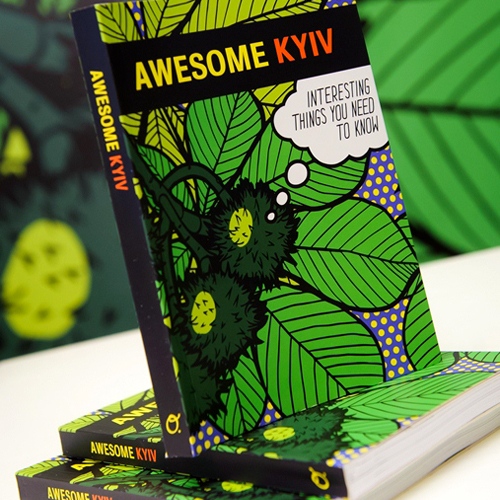 Awesome Kyiv book
The book has a great design and describes Kyiv through interesting places, talented residents, objects, traditions, food. It's not a stereotypical guidebook and I think it can help to understand locals and the spirit of the city.
http://osnovypublishing.com/
Buy: «Є» (Ye ) Bookshop, 3, Mykola Lysenko str., Kyiv.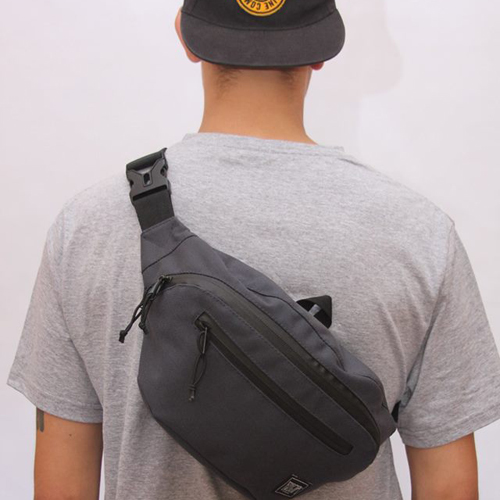 Fanny pack
Fanny pack has been a part of the Kyiv street style fashion for years and keeps being popular. What started as a trend among football hooligans is now can be found in different shapes and materials, there are even luxury leather fanny packs made by local designers. Oh, and you can wear it not only on your waist, but across your body! 😉
http://rider.ua/
Buy: Rider shop, 10, Bohdana Khmel'nyts'koho str., Kyiv.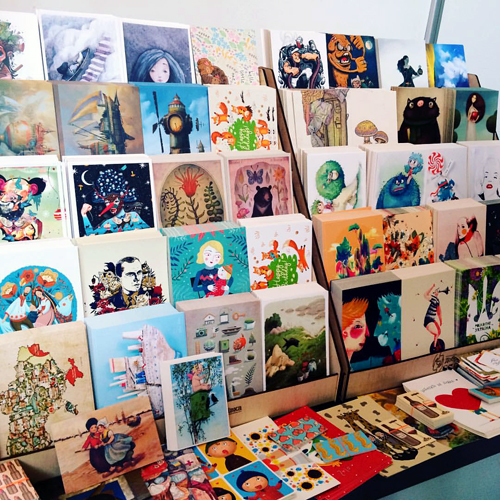 Postcards by Dobra Lystivka
Dobra Lystivka is a charity project; all proceeds go to kids with special needs. Postcards are designed by Ukrainian artists. Buy and send it to your friends abroad from Kyiv's main post office on Maidan Nezalezhnosti 🙂
http://dobralystivka.com/
Buy: Laska shop, 3, Chapaieva str., Kyiv.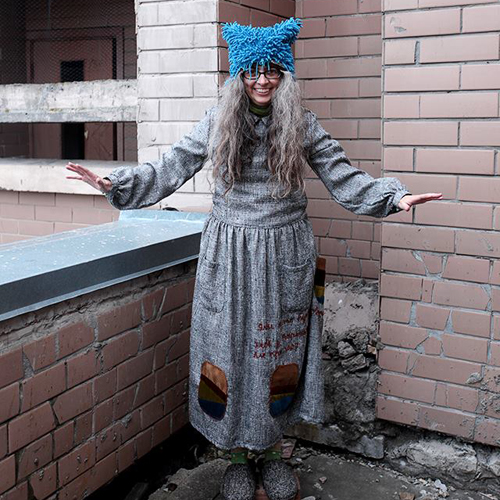 Pravda, B hat
Pravda,b is a hippie/bohemian/a bit weird style clothing brand, designed in Vinnytsia. It owns shops in Kyiv and Lviv. All clothes are handmade and, either one of a kind or very limited-edition. Their hats are my favorite items, I own two 🙂 They are really warm, and have names like dakhabrakhanka (named after our famous band DakhaBrakha), anarchy-hat etc.
https://www.facebook.com/pravdab
Buy: Pravda, B shop, 2-b Andryivskyi descent, Kyiv.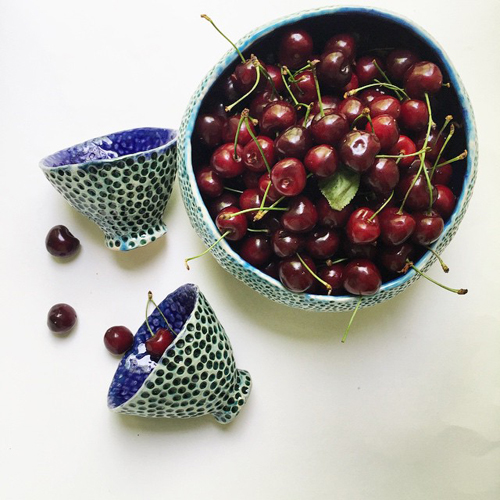 Interesting ceramics
The shop Мякоть (Mjakot) sells interesting ceramics and accessories made by Ukrainian artists.
https://www.facebook.com/myakot6/
Buy: Mjakot shop, 53/80, Saksahanskoho str., 3rd floor, 1st door on a right
Alexandr LEN bag
Alexandr LEN is one of my favorite Ukrainian bag designers. I have two LEN bags 🙂 His design is quite minimalistic, but with an interesting twist.
https://www.facebook.com/SAVESIMPLESTYLE
Buy: Kvartira31 shop, 9, Kostolna str, Kyiv.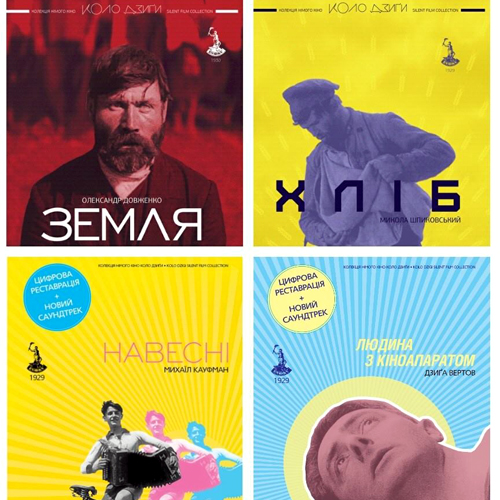 DVDs of Ukrainian silent film classics with a new cool soundtrack
Oleksandr Dovzhenko National Centre created a project to make silent film classics cool again by adding a new soundtrack. New music really helps to see an old film in a new way. World famous Man with a Movie Camera (1929) is one of the major manifestos of the world cinema avant-garde that captures life of Ukrainian megalopolises – Odesa, Kharkiv, and Kyiv got a new electronic soundtrack, the Oleksandr Dovzhenko's classic The Earth (1930) got the soundtrack by one of the most famous Ukrainian bands DakhaBrakha.
http://www.dovzhenkocentre.org/eng/
Buy: «Є» (Ye ) Bookshop, 3 Mykola Lysenko str., Kyiv.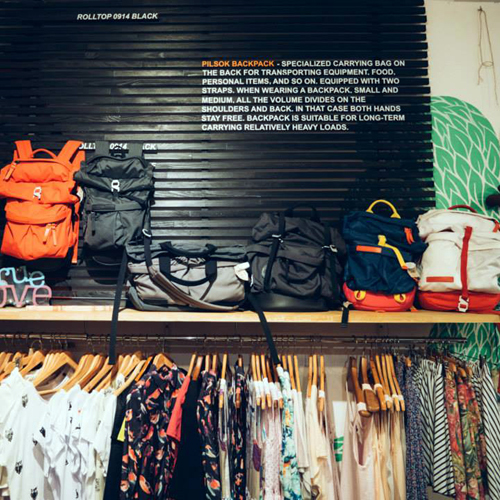 Pilsok backpack
Kyiv brand Pilsok makes roll top backpacks, which are available in different sizes and colors.
https://www.facebook.com/Pilsok-Backpacks-783945968313166/
Buy: Underwood store 31Б, Pushkinska str., Kyiv.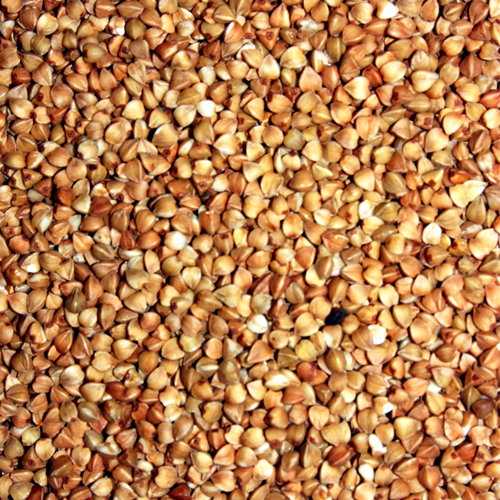 Buckwheat 🙂
Buckwheat is extremely popular in Ukraine, it's delicious, very healthy and easy to make.
Buy: Any supermarket.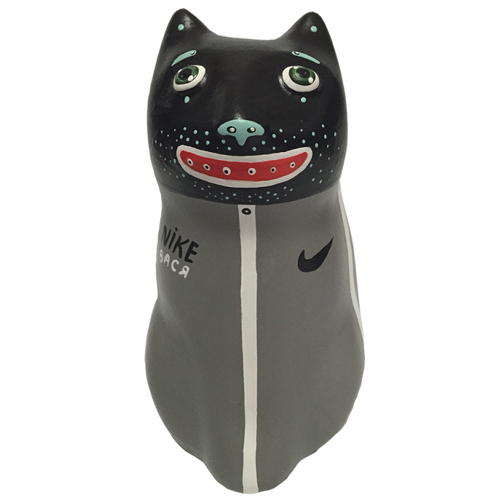 Ceramic cats
Ivan Semesyuk is one of my favorite contemporary artists. He has a great sense of humor and ability to provide social commentary through his art. There are cats-hopniks (Ukrainian chavs), cats-football fans, cats-Ukrainian defenders, cats- anarchists.
Buy: http://semesyukshop.com/
SEE-K: Walking tours around Kyiv. Book a tour! seekyiv@gmail.com